---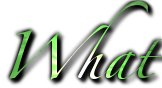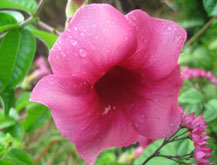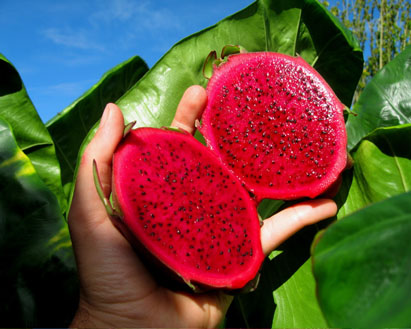 (808) 345-8217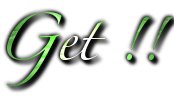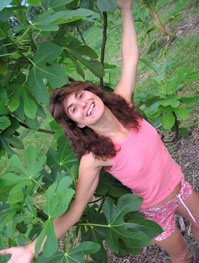 The asking price for the farm includes everything you need to live and work upon the farm, including dishes, furniture, bedding, appliances, farm machinery and implements, soil amendments, agriculture books, power tools and hand tools, a solar electric system with a back up generator, and a water catchment and purification system. Buying a turn key operation makes it much easier if you are moving from the mainland, or if you plan to only be here for part of the year.
For Sale By Owner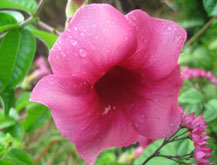 We realize that not everyone who is interested in this property will be interested in farming. There is no necessity to maintain it as a farm unless you wish to. It could be simply an awesome house site with great orchards. If you need assistance with farm maintenance, we have excellent, trustworthy workers who know how to manage and maintain the property. If you have little experience with horticulture or living on solar power and need guidance, the current owners are more than happy to share their knowledge with you and will remain available to answer questions after the sale is final. There are many free resources available to you from the community, including the University of Hawaii School of Agriculture, the Hawaii Organic Farmers Association and the USDA, all of whom offer courses and workshops. We can also give you names of professional farm consultants.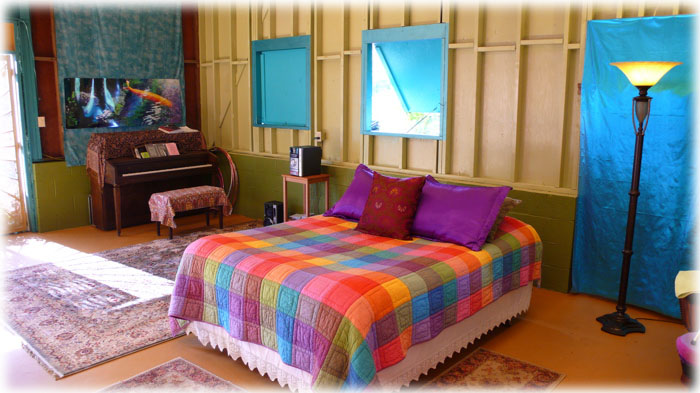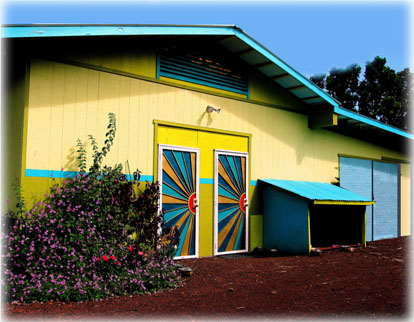 The main building on the land is a 1,760 square foot single story home. It is a permitted structure built by a contractor 1980. The construction is extremely solid. It was originally built as a barn, but in 2003 we converted it into a home with two bedrooms, living room, kitchen, laundry room, walk-in closet, one bathroom and a utility room. There is a second shower outdoors with hot and cold water. Other than the bathroom and the utility room (which have separate interior walls), we have kept an open floor plan, which is typical of homes in the tropics. This provides good air flow through the house and gives a sense of open space, as well as allowing for easy conversion back into an agricultural structure should you wish to build a new house on the land. Attached to the house is a two-car carport (375 square feet) and a shade cloth tree nursery/potting table/seedling starter area (about 425 square feet).

The furniture consists of two queen size and one full size bed sets (mattress, box spring and frame). There are two sets of sheets for each of the three beds, and at least two pillows on each bed. There is an oak roll top desk, a heavy piece with lots of drawers and cubbies. There is a new hand carved mahogany couch in French Victorian style, with brocade upholstery. There is a new large teak coffee table in Chinese opium style. There is a large hand carved teak and mango wood armchair in Balinese style. There is a woven rattan armchair with comfortable cushions. There is a hand carved pine dinner table that seats six, and a picnic table that seats six. There is an upright piano with walnut veneer. There are a variety of lamps, and five sets of built in shelves. There is a free standing walk-in closet (4x8x10 feet). There are two large high quality area rugs, approximately 8x12 feet, both are new.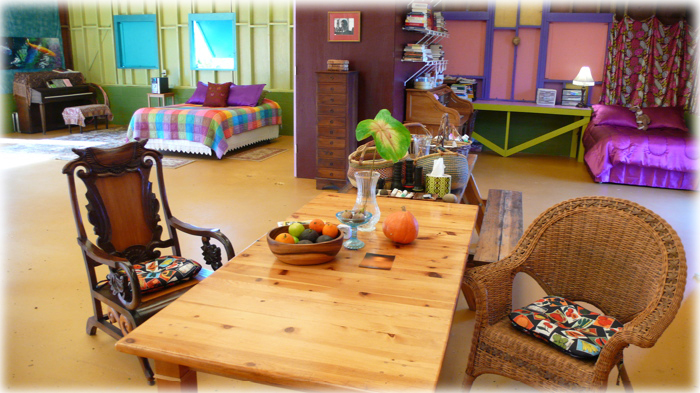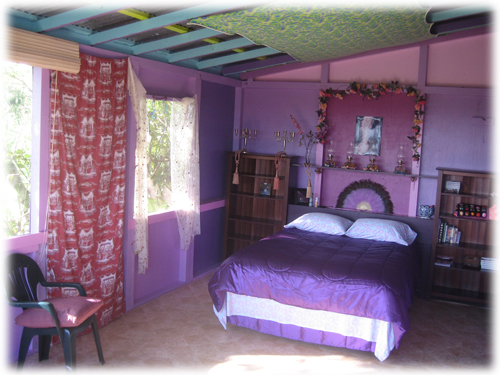 The smaller guest cabin is 370 square feet and was built without a permit (although it is built to code). It is two stories high. On the first floor is a small orchid room where we grow orchids for pleasure. The upstairs consists of a large single room that has built-in bookcases and a queen size bed. Two walls of the cabin are mostly screen, giving sweeping views of the land and sea, and lots of fresh air. The sun rises out of the ocean and shines right on the bed. The interior of the cabin is painted shades of rose and lilac, amplifying the colors of the sunrise. Waking up there to the sunrise is an amazing experience.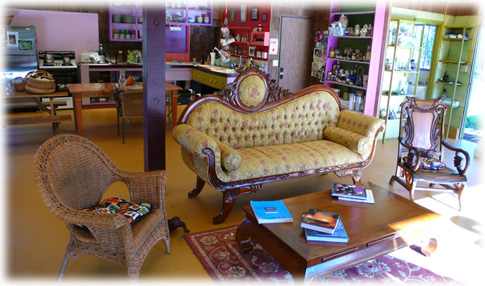 Guest Cabin Bedroom.

Edible Trees in the orchards and the nursery

We have approximately 300 trees providing over 50 varieties of fruits, nuts and spices. Included are: Allspice, Avocado, Banana, Brazilian Cherry, Cacao (chocolate, three varieties), Cashew, Champajak, Chocolate Sapote, Cinnamon Sapote, Clove, Coconut (Hawaiian and dwarf Samoan), Cupuacu, Durian (three varieties, both grafted and seedling), Fig (two varities), Grapefruit (yellow and flame) Guava (white, yellow and red varieties), Inga (ice cream bean), Jabotikawa, Jakfruit, Lemon (pink and yellow varieties), Lime (Tahitian and kaffir), Longan, Macademia Nut, Malibar Chestnut, Mamey Apple, Mamey Sapote, Mango (grafted, six varieties), Mangosteen (purple, yellow and cherry varieties), Marang, Mountain Apple, Nutmeg, Neem, Orange (regular and blood varieties), Papaya, Paradise Nut, Pedali, Rambutan (four varieties, both grafted and seedling), Rolinia, Soursop, Sweetsop, Star Apple, Star Fruit (kajang), Tahitian Chestnut, Tangerine (three varieties), Tangelo (minneola), Ulu (breadfruit).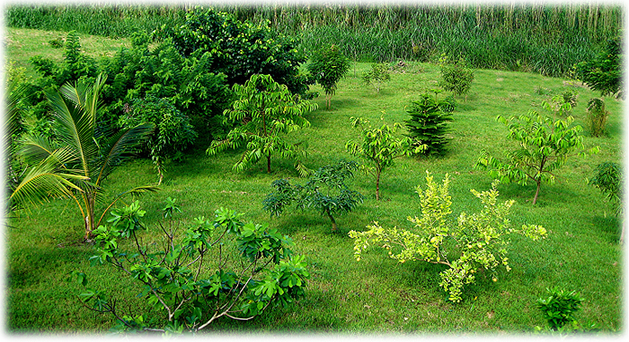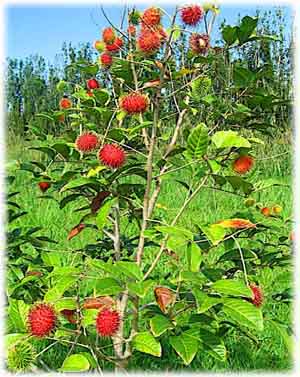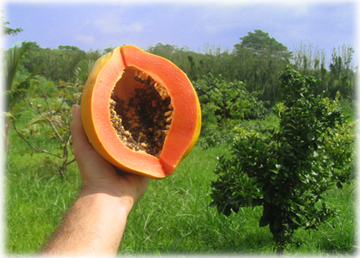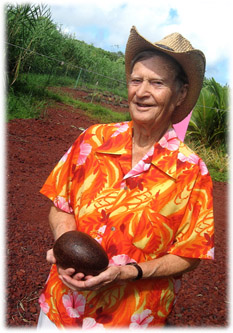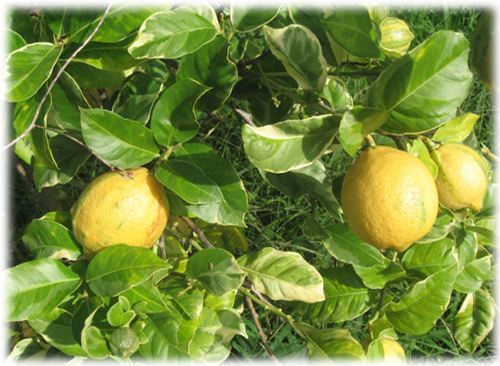 This list varies somewhat as the garden changes throughout the year. Currently we are growing: Asparagus, Artichokes, Arugula, Basil (five varieties), Bay Leaf, Beans (two varieties), Beets (two varieties), Cardamon, Carrots, Celery, Chives (two varieties), Cilantro, Dill, Dragon Fruit, Fennel, Hawaiian Hot Peppers, Lettuce (seven varieties), Lilikoi (passion fruit, three varieties), Lemon Grass, Lemon Verbena, Majoram, Okra, Onion (three varieties), Oregano, Parsley (three varieties), Poha Berry, Pineapple (two varieties), Rosemary, Sage, Shiso, Spearmint, Strawberry, Sweet Potato (Molokai Purple), Taro Root, Tarragon, Tomato (three varieties), Tumeric, Vanilla.

Edible Vegetables, Berries, Herbs and Spices in the gardens and the nursery
Precious Avocado!!!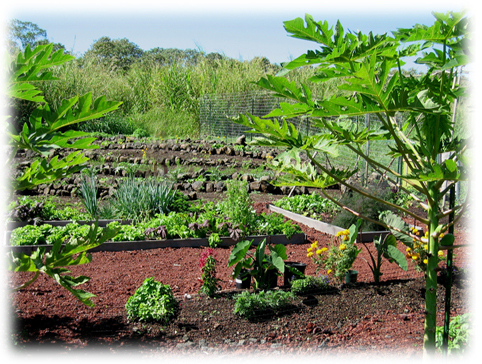 Included with the house is everything you need to live a comfortable life. All of the kitchen ware and linens are new or purchased within the past few months. They are attractive, high quality items. The major appliances are all in excellent shape, in good working order and are under warranty through November, 2009. The appliances were chosen for their Energy Star ratings and each draw a minimal amount of power.
In the kitchen there is service for 12, which consists of a set of ceramic dinner plates, salad plates, bowls, and mugs, glass tumblers, and stainless steel cutlery. There is a 22 piece set of Belgique stainless steel cooking pots, a 2 piece Calphalon frying pan, three stainless steel colanders, a large turkey roaster, 20 pieces of baking dishes (including spring form pan, muffin pan, etc.), and a wide variety of serving dishes and cooking utensils. There is a seven piece German kitchen knife set in a wooden block. There are eight linen place mats with matching cotton napkins.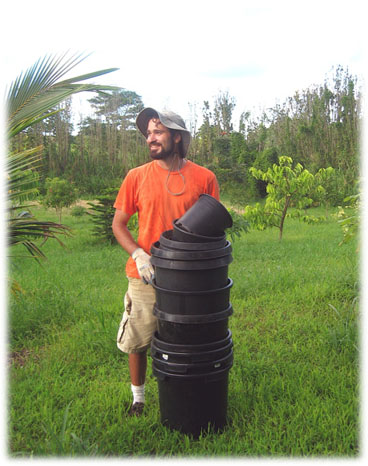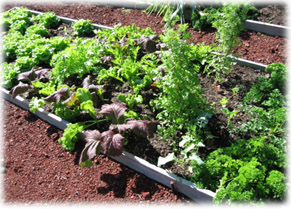 The solar electric system includes an Outback charge controller, 12 Trojan 6 volt batteries, 8 Kyocera 120 volt Cobalt solar panels, two Outback fuse boxes, a Go Power! 2,500 watt (3,600 watt peak) modified sine wave inverter, lightning arrestors and deeply buried lightning rods, a voltage meter, an Iota battery charger and a 5,000 watt Honda gasoline generator. This system has been impeccably maintained. Additionally, we have typed out a guide to living on solar power and maintaining the system which will remain on the farm.
There is a 10,000 gallon water catchment tank with a GE Smart Water filtration system. This is a low maintenance system, requiring about 15 minutes per month to keep you in fresh, pure drinking water. Again, we have a written guide to maintaining the system that comes with the farm.
There are scores of hand tools of every description: tools for carpentry, for plumbing, for gardening, for mechanical work, for farm work and orcharding. When it comes to farm items, we have at least four of each tool (shovels, trowels, etc.) so several people can work at once. Power tools include a 6.5 inch Skilsaw (with wood, metal and masonry blades), a Craftsman Router, a Black and Decker Sawzal, a new Ryobi Hammer Drill, a Craftsman Table Saw, an Electric Sander and a new Echo weedwacker/brush cutter with both string and blade attachments. There is a new Toro Riding Tractor Mower with a 360 degree turn radius, and a self propelled Toro Push Mower with extra large wheels. There is a dolly for moving heavy items. There are three ladders, a 16 foot aluminum extension ladder and 6 foot and 8 foot step ladders, as well as two step stools. There are six propane tanks. There is a propane weed burner. There is a heavy rolling steel cart that houses the small tools.
The shade cloth nursery includes scores of plastic pots from tiny seedling size to 15 gallon mature tree pots. There are a variety of organic soil amendments including bat guano, bone meal, spirulina, fish emulsion, mineral supplements and natural pest control items like neem oil and bacillus thunbergensis. There is a large compost pile that provides rich new soil for the garden beds. There is a small library of books about tropical farming. We are happy to share of knowledge of organic farming and tropical agriculture with whomever buys the farm, and will remain available to answer your questions as they arise while you transition into your new life.
We also have a list of reliable farm workers, agricultural consultants, solar electricians, and repairmen, etc. so you will know who to call if you need assistance.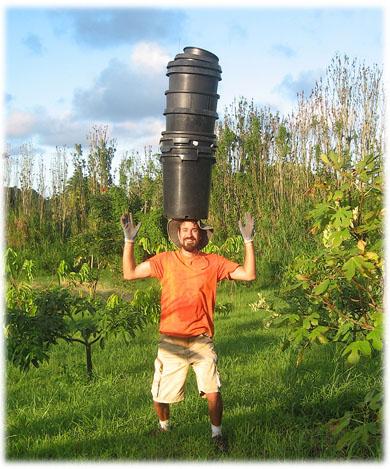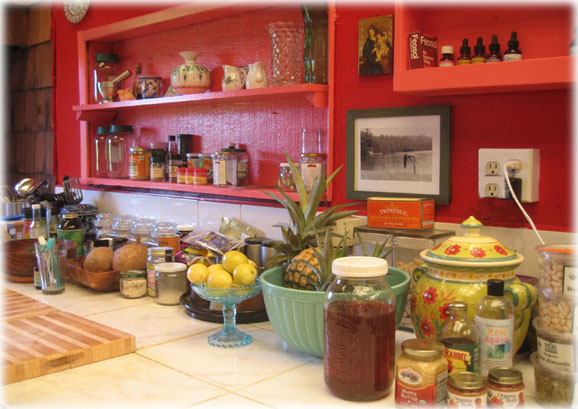 Appliances include a Whirlpool 21 cubic foot refrigerator/freezer/ice maker with stainless steel doors, a Frigidaire propane range (oven, broiler and four burners), a large Maytag propane dryer, a Kenmore EcoSaver front-loading washing machine, and a Bosch propane water heater. There is a new Hoover Empower upright vacuum cleaner, and a new Vornado fan. There is a 5 horsepower VitaMix blender. All major appliances are covered under extended warranty until 12/1/09.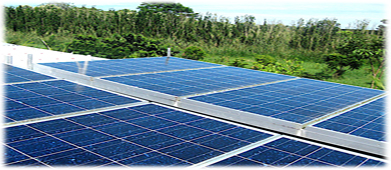 solar panels
1 more day. 11 more trees. Not Bad!!!